Here is a small list of manga that I've done over the years, just for my own sake.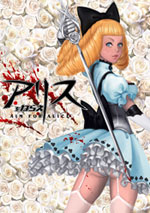 ƒアリスをねらえ
[AIM FOR ALICE]
15x22cm//34 pg//perfect bound
SOLD OUT! Thanks, everyone!
samples: ■ ■

My first real doujinshi, obviously Alice in Wonderland inspired. It's black and white, reads right to left, and is in english with japanese sound effects. Includes additional sketches and artwork.